Request a Quote
Shear Cut & Bent Rebar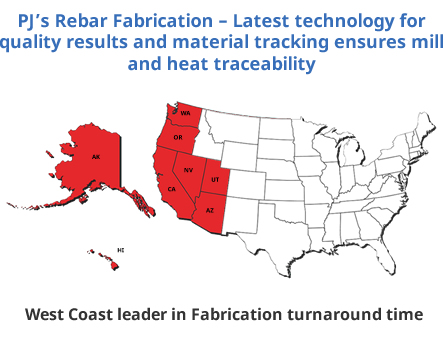 You can get rebar from countless suppliers. But plain, stock rebar isn't very useful—when was the last time you used an untouched piece of long stock rebar on a project? Most projects require rebar that is cut to length, bent, spiraled, or otherwise fabricated.
Order Custom Cut Rebar and Custom Bent Rebar
PJ's Rebar can provide the rebar you need AND cut and bend it to your exact specifications. We have the equipment and the know-how to deliver fabricated rebar to match even the most complex requirements.
To cut rebar to length, we utilize three RMS shear lines with computer optimization capabilities that help minimize scrap and reduce your material costs. We shear cut 20', 30', 40', and standard 60' bar stock in a range of sizes and grades to meet the needs of your project.
We use four benders and three coil machines to fabricate rebar in the shapes you need with exceptional precision. Computer automation allows us to bend #3 through #6 rebar into any shape you need.
We can custom fabricate rebar:
• Stirrups
• Circles
• Serpentine ties
• Right angles
• Triangles
• Anything your project requires!

With three automated spiral bending machines, we can turn coiled rebar into spirals as small as 6" in diameter and as large as 10' O.D.
All our shear cutting and bending processes are performed in-house by our skilled, experienced team. With these and other rebar fabrication services available under one roof, you'll save valuable time and money on your project.
Contact PJ's Rebar for Custom Rebar Bending and Cutting
PJ's Rebar is the single-source, full-service supplier you need for shear cut, bent, and fabricated rebar. Request a price quote today, or fill out a contact us form and one of our rebar fabrication experts will reach out to you.